Musser Scout Reservation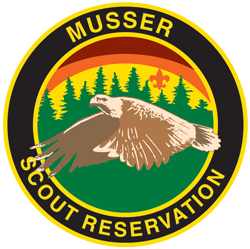 The Musser Scout Reservation is located along the Unami Creek on over 1,400 acres of Marlborough Township, Pennsylvania. It is part of the largest contiguous forest in Southeastern Pennsylvania. It now includes Camp Hart, Camp Delmont and Camp Garrison.
Directions to Camp
Camp Garrison, Musser Scout Reservation - Google Maps
5505 Upper Ridge Rd
Pennsburg, Pennsylvania 18073
View in Google

Day
Check-In
08:00 AM
Check-Out
06:00 PM

Night
Check-In
06:00 PM
Check-Out
11:00 AM
Please remember check in starts at 6:00PM Friday. If you would like to come in earlier, I need to approve it, so we make sure the campmasters or myself are there to check the unit in.
Check-in:
Is at the Check in Cabin at Delmont when you arrive. It is the small building on the left when you enter and across from the Ranger House. Go ahead and pull in, the road continues back to the main road.
The address for Delmont is 5505 Upper Ridge Road, Pennsburg, PA 18073.
Check in procedure is:
Provide a legible roster (typed), a point of contact and your check out time.

Then after we receive this information, we will give your key if you need it for your site.

Explain a few updates about the weekend and answer any question you may have.
If you would like us to show you the to your site, please let us know.
If you are checking in or out any time during the weekend, we ask that you check in with Campmasters at the Camp Delmont Check in Cabin.
Water:
Hart has water in the site.

Delmont has a hydrant across the road from the campmaster cabin. Follow the fence and you will find the hydrant. The only exceptions are Nelson and Schweiker that has its own water.

Garrison has water in all the features.
Parking:
Please be careful where you drive your vehicles. Vehicles must be kept to roads and parked in the designated parking lots to be sure no one gets stuck. A Friendly reminder - DO NOT park in the campsites there are parking lots located near each cabin. Please do not park on the grass anywhere either.
Units camping at:
Camp Garrison – should park in the main Camp Garrison parking lot.

Camp Hart – should park in the main Camp Hart parking lot expect for Korman, Park lodge, and Staff Adirondacks.

Camp Delmont:

Carlson & Sutton can park at Dan Beard or Knollbrook

Lake Front & Twin Cedars can park at Cedar Parking Lot (Lower Parking)

Iroquois can park at Sevier Parking Lot (Middle Parking)

OA Totem park at Schweiker Cabin
All cabins have their own limited parking
Trading Post
Check with campmaster or Camp Ranger

Service/Conservation Hours:
If your unit would like to help with a project around the reservation and earn service/conservation hours, please let me kno

w.
Check-out:
Contact campmaster if they are not at your site when you scheduled.
The campmaster will be checking site or cabin for:
Anything left behind

Cleanliness: cabin swept out, kitchen cleaned, bathroom/latrine cleaned, and trash picked up.
Facility Cancellation Policy
You may cancel up to 60 days prior to your reservation and receive a full refund. Any cancellations made within 60 days of your stay will be refunded 75% unless the facility is re-booked. If the facility is re-booked, a full refund will be made.
In the event camp must be closed due to inclement weather, a full refund will be issued.